Not pretty enough: an extinction under our nose
"Why do you see, why do you see, why do you see right through me?" – Kasey Chambers
Recently, my partner and I took a walk up in the forests of Mt Mee, at the northern end of the D'Aguilar Range about an hour's drive from Brisbane. We had a specific purpose: we were searching for the rare, threatened and exceptionally beautiful Richmond Birdwing. To our delight, we found a male quickly, not far from the car park of the Mill Rainforest Walk. I'd wanted to see one of these creatures for years, and it was truly an eye-popping pleasure (photo courtesy Tom Tarrant).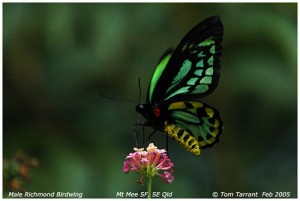 The birdwing is a very large butterfly, one of three in the genus Ornithoptera in Australia. The males of all three species found in this country (the other two are the Cairns and New Guinea Birdwings) are similar: the upperwings are a striking contrast of deep velvet black and emerald green; the abdomen is bright yellow, while the underwings are adorned with an intricate latticework of yellow, black and turquoise. They are the southernmost representatives of their type, originally occurring from around Maryborough in south-east Queensland down to the Clarence River in northern New South Wales. Apparently they were abundant in Brisbane in the late 19th and early 20th centuries.
You would be hard-pressed to find a birdwing in Brisbane now. Destruction of the subtropical rainforests on which it depends has both shrunk the butterfly's distribution and fragmented it (less than one percent of the original area still exists). The extreme drought of last decade exacerbated its decline, and as remnant populations became isolated from one another, the effects of inbreeding resulted in more local extinctions, even where the habitat remains suitable.
As if all that isn't enough, the butterflies are prone to mistakenly laying their eggs on a poisonous exotic vine, a South American species called the Dutchman's Pipe, which kills the larvae. They do this because the host vine on which the butterflies depend – the similar-looking Richmond Birdwing Vine (Pararistolocia praevenosa) – is itself very scarce, suffering its own contraction in range along with the forest in which it lives.
Depressed already? Sorry, it gets worse. But not necessarily for the Richmond Birdwing, which actually has a fighting chance of survival. Thanks mainly to its extreme beauty, it's considered an "iconic species". Now, I've never heard of any committee or individual deciding what makes an iconic species; rather it seems that certain animals and plants somehow just become iconic, and are used to represent a region's entire biodiversity. Sometimes a species may represent a whole state, or even country – Pandas in China being the classic example.
Often, iconic species may be extinct (think the Thylacine, otherwise known as the Tasmanian Tiger) or endangered (such as the Tasmanian Devil, or Victoria's twin faunal emblems, the Helmeted Honeyeater and Leadbeater's Possum). Koalas are so ridiculously cute and therefore iconic on a national scale that a whole foundation exists to conserve it – which is lucky for them, given the rate at which they're getting knocked off in Queensland lately. Polar Bears are a different type of iconic species, with its increasingly terminal decline a potent global symbol of climate change.
Being declared an iconic species can be pretty handy, though, especially if you also happen to be endangered. It means a lot of public money gets sunk into your conservation. In the case of the Richmond Birdwing, it means having your likeness (and donation buckets) displayed at the entrances to places where you are known to still exist, like Mary Cairncross Scenic Reserve near Maleny; it means education and awareness programs in schools; it means specially designated days where lots of your favourite food plants are sown by volunteers in the hope of attracting your attention (and nasty competitors like the Dutchman's Pipe are removed); it means having your image displayed on tea towels and mugs and other trinkets, with revenues going towards your care; it means teams of people meeting to discuss your perilous situation, and publishing reports documenting your plight or progress.
But if you're not iconic – not pretty enough, or you live (figuratively speaking) in the slums rather than the gentrified inner suburbs, then it's a bit like the public health system: you might as well just take a number and die while waiting for someone to attend to you.
By way of example, let me draw to your attention the example of another butterfly, the Laced or Australian Fritillary. When I first started getting seriously interested in butterflies a couple of years ago (a natural extension of my long-standing obsession with birds), the fritillary quickly attracted my attention. For one, it lived locally – roughly, its distribution spanned a similar area to the Richmond Birdwing – and it was considered rare.
But the fritillary was not a denizen of the subtropical forests featured on Queensland tourist brochures. Instead, it inhabited the thick, spiky, swampy coastal heathlands and paperbark woodlands of the coast, where it relied on a small herb from which springs a rather lovely purple flower, Viola betonicifolia, for its survival. And thanks to a combination of urbanisation, farming pressure and general carelessness, much less of that habitat remained than even what remains of our rainforests. Four-fifths of fuck all, really.
You'll note that I'm suddenly speaking in the past tense. That's because it's quite possible and even likely that the Laced Fritillary (which, while nowhere near as spectacular as a Richmond Birdwing, is in its own right a beautiful butterfly, being a deep orange with fine black spots) is not just rare, but already gone. I mean extinct; bleeding demised; snuffed it; gone off to join the choir invisible, etc. A few polite inquiries revealed that the last specimen was collected near Port Macquarie in northern New South Wales nearly a decade ago, in April 2001, with an additional sighting from Bribie Island in south-east Queensland around the same time.
Gone, from right under our nose, and within the last decade. No fanfare. No headlines. No tears. No likenesses on tea towels; no lost archival footage (that I'm aware of, anyway) of the last lonely specimen fluttering sadly in an exhibit, like the famous bored Thylacine filmed in Hobart Zoo in the 1930s.
What's more, like the Paradise Parrot – Australia's only bird known to have become extinct post-European settlement, last seen in 1927 – it lived right here on my bloody doorstep: the parrot, too, was once known from inner Brisbane, with records from Kelvin Grove and Bowen Hills, and being as gorgeous as its name suggests, you can bet it would have become an iconic species if only it had managed to stick around long enough.
The next Australian bird in the gun, so to speak, is the Orange-bellied Parrot, which is down to a grand total of about 35 individuals. Although it breeds in the almost pristine wilderness of Tasmania's south-west, it's on borrowed time, thanks to its habit of migrating to the mainland each winter to feed on another undervalued and unprepossessing habitat, the saltmarsh plains of coastal Victoria and South Australia. Former Victorian premier Jeff Kennett once notoriously called the parrot a "trumped-up corella". I'm not saying the Orange-bellied Parrot has been "Jeffed", but his attitude, again, summed up the general care factor towards any wildlife that's either smaller than a whale or not as cute and fluffy as a Bilby or Koala. And the OBP, while not exactly iconic, actually receives quite a lot of publicity relative to other endangered critters. That's because it's very visibly sliding off its perch on our watch.
Australia has an appalling track record when it comes to biodiversity loss: according to the Australian Bureau of Statistics, our rate of extinction is more akin to small islands than whole continents (and that document was published in 1990). These days, we're just trying to hold back the tide, really. In 2009 the former environment minister Peter Garrett (who once sang on an EP called Species Deceases, one of my very favourite Midnight Oil releases, which actually helped turn me on to environmental politics) conceded that further extinctions were inevitable, and that the government would shift its focus to preserving entire ecosystems rather than individual species.
I can see his point. Resources are scarce; there simply isn't enough money to go around to save each creature on a case-by-case basis. At the same time, though, huge amounts of money are going towards saving icons like the Tasmanian Devil. And not that I resent a single dollar, but it leaves the fritillaries of this world up a certain creek with a turd for a paddle.
What disturbs me about the fritillary's case, and should disturb all of us, is how silent this whole horror show is. We are witnesses to probably the greatest mass extinction event since the age of the dinosaurs, to the point of playing God, deciding what we can and can't afford to save. Mostly we don't even know what we're losing.
And all the while, we're frantically trying to pretend none of it has any relevance to us.