For a bird-watching exercise, you don't see a lot of birds on the Twitchathon. If you've never heard of this obscure sporting event, it's a race: teams of birders pile into their cars and tear around the state, attempting to see or hear as many species as possible within an eight or 24-hour period. Because time is of the essence, once a bird's call is recognised, actually spotting it becomes redundant. It's on the list: go!
For this year's Victorian event on 7-8 November, coordinated by Birdlife Australia as a fundraiser for endangered species, I was in one of the handful of 24-hour teams: the Manky Shearwaters. (It's a pun on a type of seabird, the Manx Shearwater.) Others were in the more civilised eight-hour race: the Lame Ducks; the Filthy Flockers, the Soft Cockatiels. I'm not sure what lends birders towards this kind of self-deprecation.
There's a hint of madness about the 24-hour version, though, which has necessitated some safety modifications over the years. Once, teams finished at the offices of what used to be Birds Australia, in the Melbourne suburb of Camberwell. With teams driving around the clock and totals docked by one bird for every five minutes after the appointed time, it was a speed and fatigue-fuelled lawsuit waiting to happen.
Now, with the re-badged and relocated organisation's offices in the city, teams simply phone in their totals at the Twitchathon's end from wherever they finish. It all works on an honour system: three members out of a team of four must agree on each species that has been seen or heard. So, too, does the mandatory three hours' rest and a commitment to rotate drivers.
More than ever, even in the age of digital photography, which can be so easily manipulated, a birder's reputation is everything. The punishment for those who break the code – such as the observer who confessed to hoaxing a house crow to falsely claim the Victorian "Big Year" record in 2014 – is disqualification, social exclusion, and a lifetime supply of derision.
The trick to the Twitchathon is twofold. The first is covering as many different habitats as possible, for each ecosystem supports its own distinctive array of avifauna (hence the long hours spent behind the wheel). The second is not trying too hard to find rare birds; rather, it's about not dipping on the common ones. It's surprisingly easy to miss, say, a rainbow lorikeet when you're the one on the fly.
Team member Sean Dooley – editor of Birdlife Australia's quarterly magazine and for over a decade the record-holder for the most number of birds seen within Australia in a calendar year (703, if you must know) – says part of the allure of the 'Thon is the thrill of seeing a plan come together. "I just want that perfect day of birding, where everything falls into place and you don't miss out on a thing."
Which, naturally, never happens. But there's a lot of what's known in the game as "sussing" in the weeks and months beforehand – checking out locations, finding hot-spots, avoiding dead zones, and crunching numbers: charting distances and times to destinations, working out how many hours (or minutes) to spend in each of them, and calculating how many species can be relied upon to reveal themselves.
The Manky Shearwaters' quest begins at the Nobbies, which juts into Western Port Bay from the far end of Phillip Island. We've got a telescope locked onto a Peregrine Falcon, on its eyrie above Seal Rocks. Behind us, a penguin's backside sticks half-way out of its wooden box burrow. Cormorants and a lone oystercatcher are visible on the rocks below; around us gulls and terns mill and scream.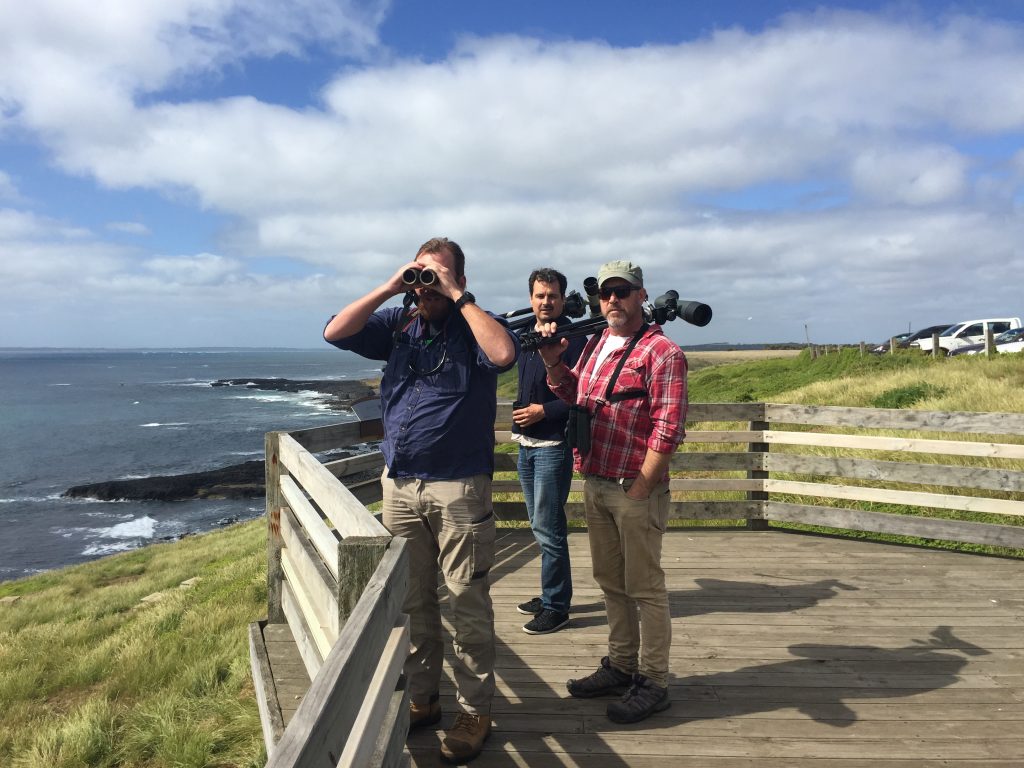 They're all on the list within seconds of the 4pm start, then we've got just a few minutes to scan the ocean. I spot a surprise: the hulking shape of a Giant-Petrel close inshore. Sadly, though, not close enough: where the bill tip of a Southern Giant-Petrel is pale green, a Northern Giant-Petrel's is reddish. And none of us can confirm which it is before it veers away. Bird identification often rests on such details.
Within an hour, our total is up to 71. But we're already missing species, too. Observation Point fails to produce either Whimbrel or Eastern Curlew, large shorebirds that can usually be relied upon here. Fisher's Wetland, which held a pair of Black-tailed Native-hens half an hour before the count, is closed. We won't see them again. A sick Sulphur-crested Cockatoo sits forlornly on a lump of seaweed in the salt water.
From there it's off to Bunyip State Park, near Gembrook in the foothills of the Great Dividing Range. It feels more like rally driving: at one point we nearly collect a four-wheel drive head-on. We pull up on blind corners with nary a thought for what's around the bend. It's wet forest country, and nearly everything we add is heard rather than seen; calls we have to parse from the expert mimicry of the local lyrebirds.
After listening for night birds (unnerving nearby campers with bad imitations of the falling bomb-like whistle of Sooty Owls), we drive to Terrick Terrick National Park, in the state's far north, taking our designated rest period between 2.45 and 5.45am. Once, the native grasslands here were the Victorian stronghold for the endangered Plains-wanderer; now they're down to just a handful of pairs.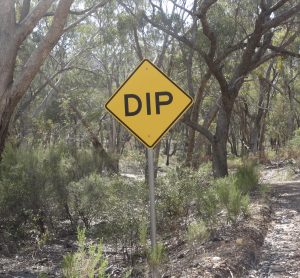 By the next morning, this sense of loss is becoming a theme. Birds are scarce. As we scour the box-ironbark woodlands of Heathcote, struggling to locate previously common species like Speckled Warblers and Scarlet Robins, Dooley reflects on the silence: "Whenever I come into these forests in particular, no matter what I see, I'm just struck with this overwhelming sense of tragedy that haunts the forest.
"I palpably, viscerally feel the loss of the birds that used to be here. It becomes this really bittersweet exercise. You could go through your notebooks, and you probably wouldn't notice that much of a difference in terms of what species you've logged over the years. You'd probably still manage to find them, but what's not reflected is the lower numbers, and the extra time and effort it takes to do so."
We finish at the sewerage treatment works at Werribee. It's a Mecca for waterfowl and waders but, again, numbers are down. We have to search for a Curlew Sandpiper, a handsome Siberian migrant which once occurred in flocks of thousands here over summer. The population using the east Asian-Australasian flyway is now critically endangered due to habitat loss in the Yellow Sea.
A Freckled Duck (on the wondrously named Lake Borrie) is our 200th species as we approach the finish line; we'll only add one more. There's a few tame high-fives on the stroke of four but, mostly, the feeling is anti-climactic, like a drawn AFL grand final: players slumped to the turf, not knowing if they've won or lost. The results won't be announced for another two days. We've covered just shy of 1000 kilometres.
As it turns out, we could have knocked off at midnight: our total of 201 beats our less experienced 24-hour campaigners by more than 80, but well short of the record of 225, the sort of total only attainable with a lot of luck in an exceptional year. Still, we've raised a fair amount of cash towards the protection of mallee birds, some of which are only a single bad bushfire away from permanent obliteration.
Later, once our bodies have sufficiently uncrinkled themselves from the vehicle, talk will turn to 2016 – the extra time we'll spend sussing out sites; the mistakes we won't make; what parts of our route we'll change to save time or potentially add new species to the list. All in search of that perfect birding day which, like a rainbow, seems to recede further and further away every year.
First published in The Saturday Paper, December 19 2015