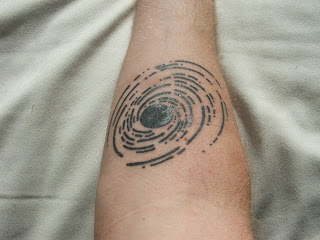 Danny Fields – so-called "company freak" of Elektra Records in the late 1960s; the man who discovered the MC5 and then the Stooges; later the first manager of the Ramones – once rapturously described Television as the band with "the most perfect skin in the world." They literally got under mine: on the inside of my right forearm, I have a tattoo of the design adorning the back of their debut album, Marquee Moon. On the original midnight-blue sleeve, the moon is dazzling; radiating white light. On my pale skin, it's necessarily polarised. I'm occasionally asked if it's a black hole.
Television – singer/guitarist Tom Verlaine, guitarist Richard Lloyd, bass player Fred Smith and drummer Billy Ficca – was the first group to play CBGBs, the legendary New York dive that was also the crucible for Patti Smith, the Ramones, Blondie and Talking Heads during its first, glorious era, between 1974 and 1978. Lean, short-haired and dressed in plain clothes, held together at times with safety pins, they were in the vanguard of punk, a movement they otherwise bore little relation to.
If anything, they were the anti-Ramones. Nick Kent, in a famously hyperbolic NME review, cocked them cold when he said to call them punk was akin to calling Dostoyevsky a short-story writer.… Read more..