Like Brest, Lorient was smashed to pieces during World War II. It's a seaport on the south coast of Brittany in north-west France, and a former German U-Boat base. All the allies' bombs combined couldn't penetrate the three giant reinforced concrete structures that sheltered the boats, so they reverted to plan B, destroying the city in order to cut supply lines to the base.
On Rue Florian Laport, which runs down to the docks, you'd be forgiven for thinking some parts of Lorient had never actually been rebuilt. If you're a dirty, filthy rock & roll band and you wanted to grime up your image by picturing yourself in a setting of authentic urban decay, here you will find an overload of photo opportunities: abandoned buildings, huge slag-heaps of dirt and smashed windows abound.
They have great graffiti here, though. The band photos didn't materialise, but I did get this shot of Stackers in one of those bombed-out buildings: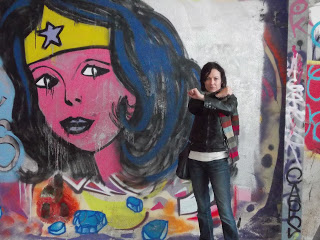 Appropriately, it's on this street, amid all this detritus, that you'll find the dirtiest, filthiest and best rock & roll club in France, if not all Europe. Le Galion was once a sailor's bar and, from all accounts, a violent place; if you look hard enough you'll probably still find the odd tooth that's been knocked out of some poor seafarer's head. About six years ago it was taken over by owner Jean-Baptiste, a swarthy fellow with a taste for music as tough as the surroundings.
The place was apparently christened with a performance by Brisbane's 6FtHick, which would have set the tone of the place from the outset. The love was reciprocal, too: large parts of a documentary about the band, Notes From The Underground, were filmed here, and my understanding is that the band's 2008 album On The Rocks was at least partially inspired by their shows at the venue.
There's a painting of a crocodile over the bar and another of the docks over the stage, augmented by images of a female rock goddess and a demon drummer. Perfect. Capacity is roughly 250. It's obvious it's going to be a big night.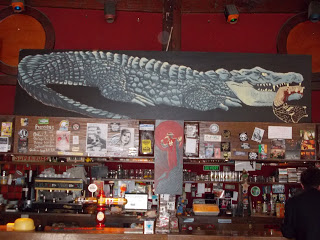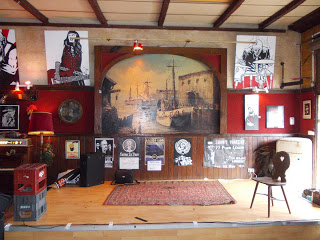 Fred, who does sound at the venue, tries to explain Le Galion's history. "It's a great town. Simple people, kind people," he says. "We are near the fishing port – the industrial part of town. We are far from home. That's why we can make such big sounds. It's cool. Twenty years ago it was really dangerous; a jungle. Bad guys, drunk people. Now it's, how would you say, arty? Something changed here about five years ago – when Le Galion started putting on shows."
Hopefully, this tilt towards the arts won't infect the docks of Lorient with the virus of urban gentrification that invariably end up being the death of places like Le Galion.
WHEN HITS are in enemy territory – like, say, La Louvière, where they found themselves on a bill surrounded mostly by Ameripunk bands – they like to take the show to the audience. Stacey and Richard especially have spent almost as much time on the dance floor as on stage on this tour. At La Louvière, Richard pulled out every trick in the book, hurling himself at the mike stand, singing while collapsed in a heap on the floor, planting kisses on the ladies.
That's not going to happen here at Le Galion. The place is packed to the gills and, for the first time on tour, the audience takes the show to HITS. In other words, they go completely bonkers. It seems a large proportion of them know the band's material: we actually don't sell as much as merch as I expected, probably because the band are preaching to the choir. There's a real mosh pit, slam dancing and an almost scary level of energy.
So the band stay on stage, except for a small round podium planted just in front. It allows Rich and Tamara to put on their Bon and Angus routine to full effect: mostly, Rich stands on the podium, until it's Tam's turn to take a solo. Then he stands over near her amp. "That is something I picked up from them [AC/DC]," he admits. "You don't want to grandstand at those times. You want people to hear the solo, because it's fucking great."
After the nerves of the previous night, it feels like deliverance, a magnificent show. They look like stars and they're treated accordingly. But it's also the first time after a gig where I've seen Richard ready to retire straight away. As it is, we're up until 5am. "I was fucked," he says afterwards. "Nothing left. I usually feel that way after a show in Australia, in summer, in a heatwave.
"And it was weird. There were a lot of idiots in the crowd. You have to keep your eye on them … If I was using a mike stand, then I'd just [mimes whacking an imaginary idiot]. But then you think, I can't worry about them."
In particular, both Tamara and Stacey are subject to a disproportionate amount of leering. One punk in the sort of spiky jacket that screams of a man who has never let go of 1977 stands dead in front of Stackers for the whole set, barely moving, just staring at her. He probably thinks he's giving her the eye, but it's crudely menacing. A few others try to lick Tamara's guitar – or maybe it's her strumming hand – when she steps forward.
Later, outside, they have to be rescued from the locals by Andy and Gregor. Marriage proposals were the least of it. "I like a bit of seduction, but these guys were touching my legs, telling me how they wanted to go down on me, like, right now," Stacey says later, shuddering. It wasn't a pleasant experience.
Truthfully, as one of two single members of the band – Andy being the other, and both have at times been, in Stacey's words, as toey as Roman sandals – I'd expected Stackers to go off and make her own fun at some point. It's not going to happen. "I'm loyal to my band," she says. "If I woke up, in a stranger's place, I wouldn't feel good about that. And if I did meet someone I like, I'd rather get in contact later and establish something that way."
Later, though, she exchanges details with Fred, the sound guy "with such a beautiful smile".
THERE'S a gig in a beautiful town called Lannion the next night – the day Nicolas Sarkozy is defeated. Richie dedicates a rare performance of The End to him. Then we've got a day off. We drive seven hours to Clermont-Ferrand before making for Lyon, in the south. The final, brutal stage of the tour is approaching. There are 11 shows to go. In a row.
"I can't comprehend 11 in a row," Richie says over a subdued dinner near the Formula One hotel on the outskirts of town. "It makes me feel a bit ill."
"We're just gonna have to put ourselves to bed early," Tamara says hopefully. "It's not gonna be 11 parties in a row … We've had such an awesome time. I suspect the awesome times are about to diminish."