Richard "Evil Dick" Hunt is doing a handstand. We're in a plush dressing room at a venue called Le Cargo – it's so cushy that it even has the band's name on the door, an unheard-of event – and Hunt, by way of limbering up, is hoisting his small frame over a large, comfy, suspiciously new-smelling corner couch.
I watch warily as Hunt, who's already flying on a combination of cough syrup, cognac (to protect his shredded voice) and beer, inverts himself aloft. This may not end well. Facing away from the wall, he gets himself balanced precariously on his head. Then, unsteadily, he begins to stretch out his little legs.
Le Cargo is a major performing arts complex in Caen, a couple of hours' drive north-west of Paris. HITS – a full-tilt, five-piece rock & roll band from Brisbane, Australia – have taken all before them on their first European tour. It's the second-last gig of a four-week adventure that's seen the band play 20 shows in less than a month.
Every Friday night at Le Cargo, the local government subsidises free concerts for up-and-coming groups in a room that would comfortably fit 450 punters. Everything is arranged to make young bands look and feel like stars: there's a high stage, drum riser, light show, and the sound is excellent.
Not to mention that dressing room. It's got a wall-to-wall mirror at one end that adjoins a floor-to-ceiling window looking out over the Caen Canal, which runs out to the English Channel about a dozen kilometres upstream. At the other end of the room, opposite the mirror, is the corner couch.
All of this is, as you might have gathered, unimaginable luxury for a band that, on any given night in Brisbane, is lucky to attract more than 100 paying punters. On this tour, many of the gigs have been to 20 or 30 people, some in venues that would make tiny Fortitude Valley icon Ric's look like Madison Square Garden by comparison.
Hunt points his toes skyward. His feet are adorned in lovely black suede RM Williams boots, with classic rocker's Cuban heels, which instantly shatter the print on the wall. Glass rains down, even as the print remains in place and Hunt heroically maintains the handstand.
The larger, heavier chunks of glass that don't make it to the floor land on Hunt, falling around his magnificently unkempt mane of blond hair much like a circus knife-thrower outlines the head of his smiling female assistant. And still he holds the handstand, until finally the clatter of glass stops.
Everyone else in the room stands, mouths agape in horrified silence.
"Oh, shit," someone says.
Hunt dismounts the couch, grins, and casually brushes away the pieces of glass still clinging to his hair and flannel shirt. He's completely unscathed. The rest of us dissolve into laughter. Richie, not finished, weaves his way over to the sink under the long makeup mirror, and vomits copiously into it. Blaaargh!
[Footage from Le Cargo, thanks to Youtube user TCITR. This was arguably the best show of the tour. Mind the vomit at 16.50!]
Let's get the disclosures out of the way. I became involved with HITS in 2009, when the band's debut album, Living With You Is Killing Me, was released. I fell in love with it, with them, and subsequently co-financed the reissue of the CD on a limited vinyl pressing of 300 copies (now sold out).
It was due mainly to that commitment that I was asked to chauffeur the band through Europe. A double-life spent writing and driving maxi-taxis on nightshift was as good a grounding as any for moonlighting as the driver for Brisbane's hardest-drinking rock band. (The tour wasn't wickedly titled Euro Double-Vision for nothing.)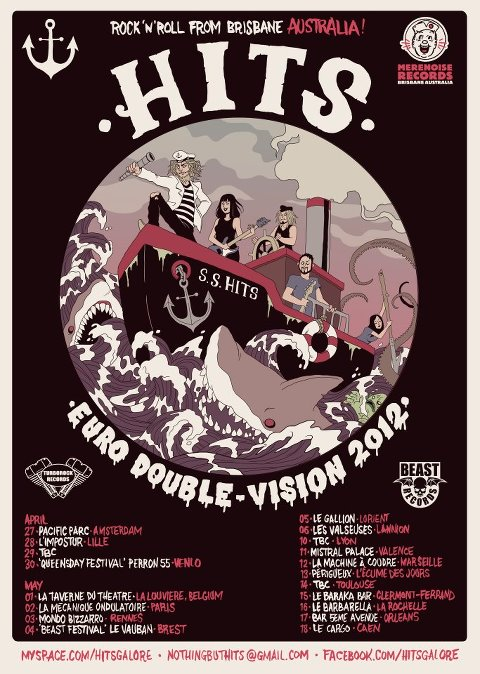 There are more than a few other judges, though, who will tell you that HITS – the name is ironically chosen, deliberately capitalised, and a knowing anagram – are the best rock & roll band in Australia. True, none of the judges are named Seal or Delta Goodrem or Keith Urban. But since when did The Voice have anything to do with rock & roll?
In this writer's opinion, at least, they're by far and away the most recklessly exciting group this city has produced since the Saints. No, they will never sell as many records as Powderfinger. But they have the charisma, the sound and most of all, the songs (real songs, with hooks and choruses and quite possibly the best set of riffs since AC/DC last had it up) to leave a lasting legacy.
HITS also have something that in this day and age shouldn't be unique, but is: they're a mixed-gender group with not one, but two female guitarists. Tamara Bell (who, just to add to the band's volatile internal chemistry, has been in a relationship with Hunt for nearly a decade) plays with the demented fury of Angus Young trapped in Chrissy Amphlett's body; Stacey Coleman pumps out the rhythm with a sneer to make Joan Jett blush.
Over them, and a thunderous rhythm section comprising bass player Andy Buchanan and New Zealand-born drummer Gregor Mulvey, Hunt pours out his frustrations and insecurities: stories of drinking, depression, drugs, going to rehab and failing: as he puts it in the title track of Living With You Is Killing Me, "I'm sorry baby, the 12 steps are too hard to climb."
It's the opposite of the usual model of female-fronted bands, or groups where women play stereotypically supportive roles (usually bass, following the examples of 1980s indie-rock icons Kim Gordon, of Sonic Youth, and the Pixies' Kim Deal). It gives HITS an immediate visual distinction.
The most striking thing about them, though, is the way they deliver their music on stage. The song titles tell the stories: Bitter And Twisted. Sometimes You Just Don't Know Who Your Friends Are. Touch Of The Shorts. The End. But HITS aren't in the least bit sorry for themselves. Far from depressing, they're life-affirming.
Their shows are wild, joyous, hilarious, and sometimes, quite frankly, they're terrible. But they're never less than entertaining, not least because you can't wipe the smiles off their faces. Even on a bad night, HITS are a glorious rock & roll band because, as one critic put it, "The compelling thing they have that most bands lack is personality. Dysfunctional rogue personality, just this side of out of control." Really, they're best summed up by another marvellously self-descriptive title: Loose Cannons.
EURO Double-Vision is actually a bit of a tour misnomer. After starting the adventure in Amsterdam (Whose damn fool idea was that?), 17 of the 20 shows are in France which, despite being better known for producing the late, great Serge Gainsbourg and shopping-mall staples Air, also harbours an perverse, enduring affection for Australian rock music.
It's not just AC/DC, either. In terms of rock iconography, what we see everywhere – T-shirts, patches, badges, tour posters, you name it – is the distinctive logo of Sydney legends Radio Birdman who, along with the Saints, kicked off the punk movement in Australia back in the mid-1970s. (Rob Younger, Birdman's ex-singer, is slated to produce HITS' next album.)
The French connection to the Australian underground goes back in the 1980s. Bands inspired by or directly descended from the Saints/Birdman legacy – Died Pretty, the Celibate Rifles, Younger's other band the New Christs – toured through Europe on the back of having their records picked up and distributed locally by a former Le Havre-based independent record label, Closer.
In more recent years, Brisbane bands like 6ftHick, the Vegas Kings and their respective offshoots, Gentle Ben and his Sensitive Side and Texas Tea, have all mounted successful tours here, supported by new labels like Beast (based in Rennes) and Turborock (Caen). And in many cases – in an exciting but sad echo of older musical exports like the Go-Betweens – they're finding bigger, more enthusiastic audiences overseas than at home.
THE north-western peninsula of Brittany (Bretagne) is the centre for all this rock action. Just off the main streets of Rennes, Beast Records owner Seb Blanchais owns a shop at the bottom of the crooked timber framework of a 17th-century tenement block. It's got an Australian record section fatter than anything I've seen in any comparable shop at home, stuffed full of rare and limited pressings.
On the outskirts of town, he runs a club called Mondo Bizarro, named after a late-period Ramones album. "The right place to rock!" it insists, on a poster advertising upcoming gigs stuck outside on its white stucco wall.
"I'm glad we're not in the wrong place," Bell says.
I look at the poster. They take all types here – from thrash to funk, folk to punk and all shades of heavy metal in between. Coming up soon, for example, is Cauchemar ("Quebec: Heavy Doom") with special guests Children of Doom ("Lille: Doom Metal"). Really, the venue's just an old house – the entrance hall's been converted into a bar and there's a stage mounted at one end of the lounge room – but it's got buckets of atmosphere.
Upstairs, Bell warms up her voice. "Nothing suck-seeds like success," she belts, quoting a line from one of the band's songs, with added emphasis.
"It's still there," she says, reassured.
The small dressing room soon fills with enough smoke to gas us all. I wonder if Bell's voice will still be there by the end of the night. Hunt, for his part, is already sure he has nodules on his vocal cords, which after seven years in HITS (and 13 more in other bands, including the notorious Strutter, whose sole album gloried in the title Motherfuckers From The Bowels Of Hell) is not surprising. He has two basic modes: scream, and scream harder, "Until your whole body is telling you it can't do it any more."
Coleman – who has a day job at home selling advertising for long-standing independent radio station 4ZZZ – returns from downstairs, where she's been trying without success to get the attention of the sound guy. Every time she makes eye contact with him, he scuttles away. "I think he's under the impression I'm a groupie," she says. "I like it when they think that. Then they see me on stage…"
"Blaaaargh!"
We all look around. I'm getting used to that sound. But it's not Hunt this time. It's one of the kids from the support band, Barbed Wire, who's just spewed out the window. Not all of it's made it to the pavement below, though: instead, he's puked mostly onto Mulvey's only towel, hanging over the sill to dry.
I decide to go outside.
BEN Salter – solo artist, leader of fellow Brisbane band the Gin Club and ace ex-Queen Street Mall Beatle-busker – has joined us on tour for a few days. He's over here on a six-month songwriting grant, living out of a small suitcase, building a new fan base in Europe. Have guitar; will travel. He and Buchanan are quietly propping up the bar.
"You look like you've got The Fear, Staffo," Salter says, noting my grey visage.
It sounds scary, but I'm not quite sure what he means. "It's just generalised anxiety; existential dread," he explains cheerfully. "Everyone on tour gets it at some point. It's the drinking that does it."
Gregor appears. He'd slipped off somewhere to find a kip – might have been a park bench, but then again, it might have been somebody's front yard. He's not quite sure.
"See, the fear just bounces off The Maori," Salter says (an affectionate nickname, saluting the cherubic and very caucasian Mulvey's Kiwi heritage). "It just ricochets, like ping-pong balls off a Centurion tank."
Wait until he goes upstairs and sees his towel, I think.
Salter's dad was a Vietnam veteran. Once, marching with him in an ANZAC Day parade, he tried to explain to some of his dad's fellow diggers that he was a musician. He watched as they screwed up their faces, trying to understand his choice of vocation; the different ways you can measure success.
"Why don't you go on Australian Idol?" one eventually offered, trying genuinely to be helpful.
Salter tried to explain, politely, how such a move would fly in the face of everything he was about. Buchanan nods. "It's like wanting to be a Formula One driver and someone telling you that you should settle for driving taxis," he says.
Some things can't be explained. Most of the creative people I know – writers, musicians, visual artists – do what they do not just because they love it but because, more crucially, they have to; something inside of them is fighting to be released. And sometimes you need to feel the love of a new audience, to know that what you're doing connects with people other than your friends in your own little corner of the world.
The show's a blinder. HITS pull out a new song, Lost In The Somme, for the first time on tour. It's a tribute to Hunt's great-grandfather, who lost his life in one of the Great War's worst catastrophes. The song is in two parts: a pure punk, machine-gun riff to open (the military pun is deliberate), a couple of verses, a chorus, then a pause, and Richie crumples to the floor as if shot.
The music slows to a grind, based on just a couple of chords. Now it's the sound of battle, as though the band is wading through muck. Hunt is still on the floor, moaning. This continues for a couple of tortured minutes. Then the beat kicks in once more, double-time. Hunt's back on his feet:
Yeah, that's no way to go, no way to go
Lost in the mud and snow, the mud and snow
Throughout the show, there's a woman down the front, repeatedly grabbing at Hunt's crotch. After the performance she propositions him boldly while a non-stop Ramones medley plays in the background.
"I'm sorry," he says. "I love my girlfriend very much."
"I could just be your mistress," she replies earnestly. But she's out of luck.
WHEN he's at home, Hunt does odd jobs at a bar in West End and builds sets for the Arts Theatre on Petrie Terrace. For years, he was a regular behind the counter of local institution Rocking Horse Records. He's in his early 40s – no spring chicken in this game – but he's nobody's fool, either. He's studied rock's history and mythology intently, and he knows what works and what doesn't.
"I spend so much time watching actors – how they deliver lines; how you can express so much with your body language and your hands," he says. "It's an important point of difference in our band. So many singers have their microphone stand [he mimics being glued to one]. I'm like, no mic stand!" (This changes by the end of the tour, by which time he's using a stand with aplomb as an extra prop.)
He also knows when to get out of the way. "Usually when Tam's playing a solo I try to stand over near her amp," he says. "That's something I picked up from Bon Scott. You don't want to grandstand at those times. You want people to listen to the solo. They should, because it's fucking great."
There's more to Bell than meets the eye, too. If HITS is mostly Hunt's creative vision, Bell, 31, is the band's heartbeat and moral centre. The classic Catholic schoolgirl who went off the rails in her youth, she's made a successful return to mature-age study, and is completing her Honours in Justice after blitzing her undergraduate degree.
Earlier in the tour, after a vigorous debate about corruption in the Catholic Church with Buchanan – a UQ graduate with majors in classics and French who runs an education bookstore – she made a declaration. "We're artists. We like to make rock & roll," she declares. "But I'm not a dumb-arse rock & roller. None of us are. And I won't pretend to be."
THE last show of the tour is in Le Havre, in the basement of an Irish pub where the pipes are so superheated it feels more like Brisbane during a heatwave. We're all exhausted and sick. A song by the Ramones, I Wanna Be Sedated, has become a recurring theme: "Get me to the airport, put me on a plane / Hurry, hurry, hurry / Before I go insane / I can't control my fingers / I can't control my brain."
"Bonsoir, motherfuckers," Hunt yells.
It's a young crowd – kids in their teens and early 20s, mostly – and they go completely mental: one picks Hunt up during the first song and nearly succeeds in putting his head through the low ceiling, while Bell and Coleman are fending off stage invaders with their stilettos.
Getting pummelled in the mosh, I finally stagger from the front across the stage to the safety of the wings. It's nearing the end of the second-last song of the tour, Peter And Paul. Richie suddenly approaches me at side of stage. There's an evil grin on his face. He's holding out the microphone to me.
You know what to do.
Rock & roll has always attracted misfits; people who don't feel they have a place to go. If you never ran with the crowd at school – or the crowd never let you in – you may have found solace in the voices of Iggy. Or Morrissey. Or Patti.
"Outside of society," Smith sang, "That's where I wanna be." You wouldn't resign yourself to your status as an outcast: you would celebrate it. It's a different kind of validation. HITS like to say they're a celebration of resignation. Their songs are full of loneliness and pain and defeat and struggle. But what makes them special is their delivery, which is so joyful and inclusive.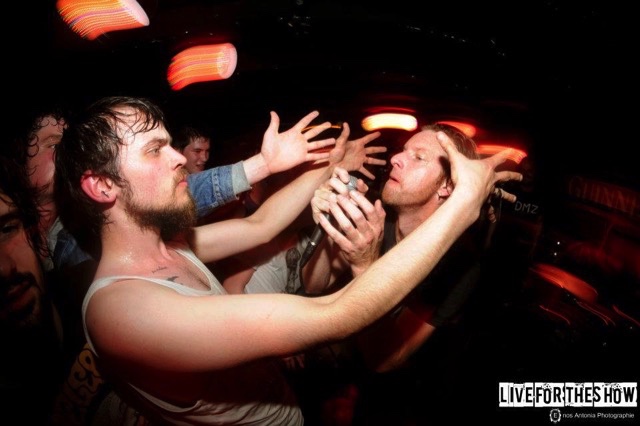 I charge into the crowd to sing the last two choruses. I'm totally unprepared, and now it's me who's barely got any voice left; I'm not doing much more than hollering, really, but it doesn't matter. The song finishes. I dive off the stage, and I haven't done that since I was 20. A dozen hands hold me aloft.
I hear Hunt laughing his head off behind me. "Don't drop him! Don't drop him! We need him to drive us, just for one more day … Please don't hurt him!"
First published in QWeekend (The Courier-Mail), 18 August 2012