La Méchanique Ondulatoire feels a bit like a railway tunnel: a curved brick room under a funky little bar, tucked away in the narrowest of side streets off Rue de la Roquette, in the Bastille. And the light at the end of the tunnel, ready to crush anyone stupid enough to get in the way, is HITS. It's their fifth show in six days – a lot, for a band that's never done more than three on the trot – and the band is cooking.
It's a Wednesday night, but we're in Paris, and so relieved and astounded just to be here that it might as well be New Year's Eve as far as we're concerned. Upon pulling up at the venue, we're met by fellow Brisbane emigre Ben Salter, who's over here for at least the next five months, living off a songwriter's grant and building a new fan base in Europe. He greets us like lost friends, which I guess we are. All of our eyes feel like saucers.
We'd left La Louvière in Belgium in the morning, crossed the French border to the east and made something like a five-hour drive to Caen, the extraordinarily beautiful capital of Lower Normandy, much of it built in the 11th century during the reign of William the Conquerer (also known as William the Bastard, due to his lineage as the illegitimate son of the unmarried son of Robert the Magnificent and Herleva. Names were more stylish among the nobility in medieval times.)
We'd been packed into a seven-seater Peugeot that was far too small for a travelling band. Andy B, my navigator for our journey, was buried with my overweight pack on his lap and Gregor's snare drum on top of that, with his own backpack wedged between his legs. Tamara's prized Mosrite was perched on the three fold-out trays that opened out from the back of the front seats. Stackers, as the smallest member of the band, was packed away in the back seat so tightly that she had to lever herself over the middle seats occupied by Tamara, Richie and Gregor.
Somehow they'd put up with this absurd state of affairs for the previous three days without getting deep vein thrombosis. Being the driver, I had the best seat in the house. Then again, I couldn't see the side mirror on my right hand side or anything else through the main rear view, and here I was driving on the other side of the road in Europe for the first time. This was not a situation without peril. At one point, after taking a wrong turnoff, I took a turn to get us back onto the highway – and looked the wrong way. We were nearly cleaned up by an oncoming truck. Our suddenly even smellier van proceeded on, and I learned an important lesson.
I was fatigued, to be truthful. We'd driven from Lille to Venlo in the Netherlands for an afternoon show at the Queensday Festival two days before, then proceeded south to La Louvière through a thunderstorm for the following night's show – a unhinged affair with an Ameripunk/Celtic edge to most of the acts. The headliners, Crazy Arm, were like Fugazi (their last song was a cover of Waiting Room) crossed with Dropkick Murphys. Everything about them, right down to their merch desk, was professional and tight and mistake-free. They watched HITS' set with their jaws hanging open, and might or might not have liked it; I'm not really sure.
There's a lot more to tell about La Louvière, which I'll have to leave for now, except to say there's an old legend of a mother wolf nursing a child here, and the town was originally called Menaulu, which translates roughly as "Wolf's Lair". It seemed appropriate, given a stylised big bad wolf now appears on the band's T-shirts. The band's moved from dogs to wolves. The Gods of Rock seem to be smiling on us.
We also crossed the Somme River, where Richie lost his great-grandfather in the infamous World War One battle, a meat-grinder with nearly 60,000 British casualties on the first day. It's the subject of one of HITS' greatest, albeit unreleased songs, but as yet they haven't played it on tour. Richie seems uncertain how it will go down here.
We finally made it in one piece to Caen. It was here that we dropped the remarkably unscratched Peugeot ("Everything is perfect," said the young lady at Europcar, to my amazement) and met Stephane Lamaziere, from Turborock records. He arrived in a big black car, the beast that would be our chariot for the rest of our odyssey.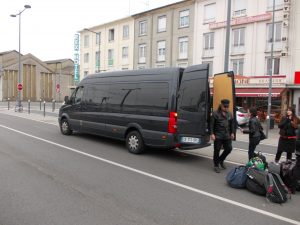 And truly, it is enormous. A nine-seater monster with an extra cabin at the back for gear and luggage. A real tour bus. But not so good for driving through the alleyways of Paris, especially when you don't have a GPS.
Again, it was Stackers who got us out of trouble – at least, it was her iPhone that got us to our destination, at the cost of a mofo of a global roaming bill. Mind you, it didn't save us from nearly taking our 2.85 metre tall vehicle through a tunnel with a clearance of 2.7 metres. That brought to mind memories of Scott "Rock Action" Asheton, who nearly scalped the Stooges when he drove their bus under a low-clearance bridge.
That was close, let me tell you. Half the band was screaming at me to proceed; I was screaming back that it wasn't going to happen if they valued their melons, and somehow I managed to scrape into a narrow gap in traffic at the last minute that got me out of a lane that would have trapped us on our meeting with oblivion. Yikes.
By then we'd already been stuck in Parisian traffic for an hour, which is sort of like Sydney on steroids. Oohs and aahs at the Eiffel Tower and the Pont Alexandre III bridge along the Champs-Elysees. ("No fucking way," said Richie quietly as we passed that one.) Finally we made it to the Bastille, to La Mécanique, and faced the final challenge: parking our monster truck. Thankfully Eric Pouille, from French band The Holy Curse, was also waiting outside the venue and came to our rescue. Two parking tickets on the vehicle the next day was a small price to pay.
A triumph. I'm exhausted. I suck down one of Richie's Marlboros, and I've barely had a cigarette in my life. My throat feels like broken glass.
There's about 40 people in the venue and they're primed. We're among friends here. Dimi Dero Inc., who toured with HITS through Australia in 2010, are all here. The band play Sometimes, which the Holy Curse cover in their live sets, and Eric and Vinz get up on stage to sing the band's most anthemic song. The audience is singing along. It feels like the band's really arrived, and not just in Paris. Richie has a look on his face I'm not sure I've ever seen before. It's exultant, ecstatic. He's finally where he belongs.
Later, when I'm selling merch upstairs, someone tips a beer keg onto my left foot. I howl in pain. Ice is summonsed. "It was all flashing through my mind right then," Richie said later. "Like, OK, we've got to take Andrew to hospital. He's gonna have a cast on his foot. Who's gonna drive?" But it's OK. I've got a nice purple bruise coming up across the side of my instep and the bridge of my big toe. But it still wiggles, I can still dance, still hit the clutch, and the Big Black Car rolls on.