Sorry for the late post (and late notice), but I've been packing/panicking. I'm about to set off on a grand adventure. Tomorrow morning, I'll be flying to Europe, tour managing a Brisbane band on their first tour of Europe. Heeeeeere we go…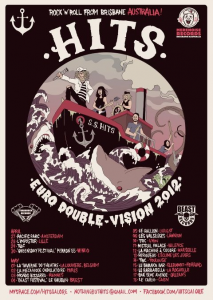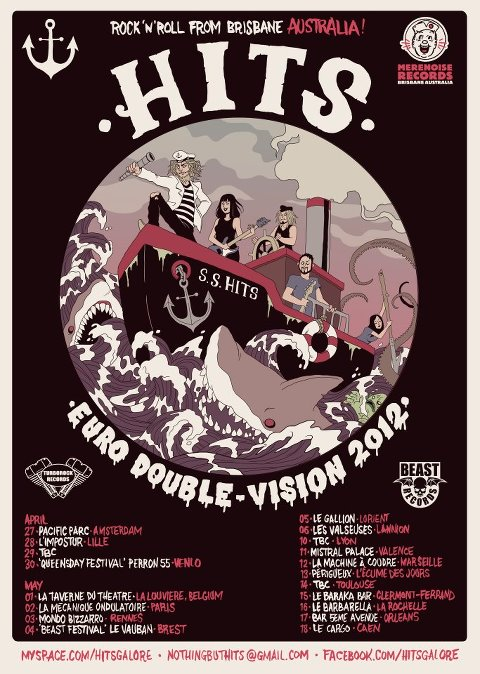 Actually, "tour managing" is a bit highfalutin' (HITS prefer to say they mismanage themselves). Basically, I'm their driver, merch pimp, nanny, fan, friend and documentarian. I've driven a van for 10 years – a maxi taxi – so this is a far more enjoyable way to use those skills.
It's not every day that a band changes your life. HITS changed mine about five years ago: 7 April 2007, to be precise, which happened to be my 36th birthday. I'd still take that one over the other 40 in a heartbeat. The venue was the Colombian Bar, in Brisbane, and the first song they played was I Swear I'll Never Sing A Song Again. I liked them right away.
It was their first gig in their current five-piece incarnation. Visually, to say they were striking was an understatement. I'd known the singer, Richard Hunt – known by his nom-de-punk Evil Dick – for around 15 years by then; I'd last seen him in an earlier band, the Aampirellas, whom major labels had shown some interest in, despite severe reservations about the greasy-haired singer/guitarist. Eventually the Aampirellas sacked him, which was a bit like the Clash sacking Mick Jones.
As Joe Strummer admitted later, you don't sack the talent. Richie was the talent. He had the songs, the charisma, the vision.
HITS were immediately different. This time, Richie was the frontman, it was his band (so no one could get rid of him) and he was flanked by not one but two women. This could not be underestimated. The sight of a male singer pouring out all his insecurities in a killer rock band backed by two very aggressive female guitarists upended the usual setup of mixed-gender bands, where women usually either sing or play "supportive" roles, i.e. bass.
One of the guitarists, Tamara Bell, had been in Gazoonga Attack. She's also Richie's partner of around nine years' standing. Together, they're the heart of the band. Richie writes most of the songs. Tamara plays guitar like Angus Young stuck in Chrissy Amphlett's body.
The second guitarist, Stacey Coleman, also plays in Butcher Birds. Mostly, she plays hot, thick rhythm guitar, but also makes a significant songwriting contribution of her own. Gregor Mulvey, the drummer, is in another band, ShrewmS. He's the wildest drummer in town. The bass player was Edward Niznik, ex-of the Disables; he was replaced by Andy Buchanan a couple of years ago. He also plays in Los Huevos and New Jack Rubys.
Wanna listen?
I kept a close eye on HITS for a couple of years after seeing that first show. They got better and better, and finally, in late 2009 their first album Living With You Is Killing Me was released. I reviewed it ecstatically here (scroll down). Then I became personally involved, going halves with their record label, Mere Noise, to make a vinyl pressing of the album – 300 copies. I'd never done anything like that before. Then, in January 2011, I toured with them through Sydney, Katoomba and Wollongong.
But there's no point being the best rock & roll band on the face of the earth if you're stuck in Brisbane, is there? The world wants HITS! Well, the French do, at least. And a few people in Amsterdam. In fact, Amsterdam is the first date on the tour. Lord have mercy.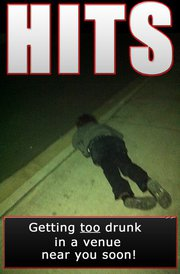 Anyway. Tune in. Check out the dates above (and if you're reading this from France, especially, come and say hello) and keep an eye on this blog. I'll be keeping a tour diary right here.
See you on the other side.